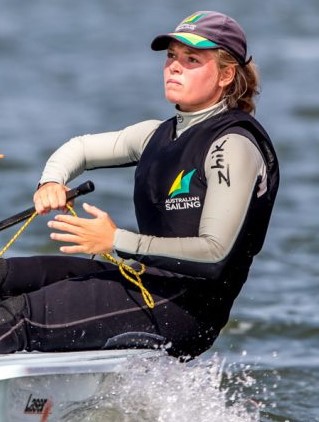 South Fremantle, Western Australia: 16th July 2020
Three female Olympians will be the superstars of the Forum at the South Pacific Laser Masters' Championships in Brisbane next month. Christine Bridge, Mara Stransky and Ashley Stoddart are the featured guests, with Rob Lowndes in the chair.
Christine, who has been a regular on the Masters' circuit since the early naughties, represented Australia at the Olympics in '92 (Barcelona) and '96 (Atlanta), in those days sailing the Europe dinghy. Talking about the two youngsters with whom she will share the platform, she commented, "I want to ask Mara what was the hardest part of the selection process?'
Mara Stransky is Australia's selected representative in the Laser Radial for the Tokyo Games now scheduled for 2021. Mara is another Brisbane local, and like the other two panellists sails out of the host club for the event, the Royal Queensland Yacht Squadron.
Ashley Stoddart sailed the Laser Radial for Australia at the 2016 Olympics in Rio de Janeiro, finishing ninth. This Forum will be a great opportunity to hear from three great sailors, and possibly to compare Olympic regimes of the nineties with those of today.
The Forum has been a feature of the South Pacific Laser Masters Championships since soon after its inception back in 2007. The idea is to have some challenging and informative discussions on the evening prior to the start of racing. Previous panels have included Nick Price, Ken Hurling and Ash Brunning.